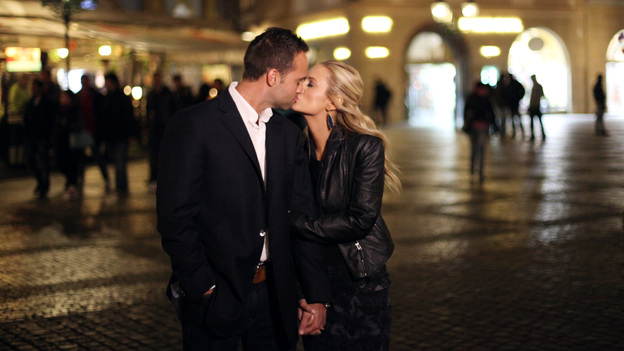 One-on-One with Arie
Emily and the boys arrive in Prague and Arie gets the first one-on-one. Chris is pissed. Emily

and Arie go sightseeing in Prague. Everyone is in winter coats and Emily is wearing shorts. Emily taunts Arie because she is mad about a secret he doesn't know he's keeping. Super passive aggressive!
Emily leaves Arie to discuss the fact that Cassie Lambert (the show's producer) and Arie briefly dated 10 years ago. Emily is legit mad and completely overreacting. Who cares?
Back to the date:
Emily continues to taunt Arie but never comes out and expresses why she is upset. It's clear that he is not picking up on her vibes. Eventually, they have an off-air conversation (why didn't they show this??? It would have been the only exciting thing on this show!) Emily and Arie kiss and make up. Arie tells Emily he loves her.
Meanwhile, back at the hotel...
Chris is starting to boil with jealousy. John worries that he is going home. But John gets the next one-on-one. Of course, Chris is pissed.
One-on-One with John
John admits that he puts a wall up and has a hard time communicating. Not a good start buddy. Emily says she likes John as a person. Then they write love notes on a lock. John can't close the lock, which is a bad sign for Emily.
Emily and John continue their date with dinner in a dungeon. John admits his last girlfriend cheated on him. Red flag! No wonder he puts a wall up. Also, he thinks the phrase is "two peas in a pot." It's not. It's "two peas in a POD." If I were Emily, I would have totally ragged on him for that.
Meanwhile, back at the hotel...
Arie, Jef, and Chris discuss their relationship with Emily. Jef notices that Chris is "off." Chris says he's tired. Jef doesn't buy it. Chris resorts to drinking.

Group date names are announced, and they are Sean, Chris, and Doug. Sean describes Chris as "crumbling under the pressure." John comes home and says the date went perfectly. Chris is about to lose it bigtime. Sean leaves the hotel and runs around Prague to find Emily. He finds her and Emily seems very happy to see him. Sean and Emily kiss and then grab a beer. Emily can't stop saying how happy she is. They don't seem to drink any beer. They just kiss a lot. (P.S. I predict she picks him!)
Group Date
Emily is dressed appropriately for the weather. Chris constantly complains about how pissed he is. Doug offers his umbrella to Emily even though she already has one. Seriously dude? They arrive at the castle and Doug reminds everyone how much his son would love this place. Emily and Doug have some alone time, in which he confesses that if she picked him in the end, they would be "just starting out." Emily tries to dump him, but is interrupted by Doug kissing her. Obviously, he's not picking up on the vibes. Too little, too late bud. She tells him he's been a gentleman to a fault and sends him home. Doug concludes that his girl radar is broken. Then he cries.

The group date suddenly becomes a two-on-one. Awkward. Chris says he's not intimidated by Sean. Sean's "big key" opens the lock and he earns the first chat. Flirting and kissing ensues. Meanwhile, Chris feels like he's fighting an uphill battle.

Chris spends his chat with Emily telling her how upset he is that he didn't get a one-on-one date. He is constantly making her reassure him. He needs to go home.

Emily says that this group date rose she gives out will be the most important one she's ever given. Then she gives it to Sean. It's beyond obvious that Chris is pissed off. He looks like he might murder someone. He confesses, "If I don't get a hometown date, I'll be scared for anybody around me." Wow. Someone needs to tell him it's just a show and none of it is actually real.
Meanwhile, back at the hotel...
Jef gets his one-on-one date card. The boys discuss what will happen if Sean or Chris gets the rose. They agree that it will be worse if Chris gets the rose because he'll throw it in their faces.

One-on-One with Jef
Jef and Emily "happen upon" some marionettes. Emily thinks Jef is ready to be a dad because he's a big kid. What? But then he buys a marionette for Ricky. Very cute. Emily and Jef go to an old library and reenact their relationship through their puppets. Totally reminds me of
What about Bob.
The whole thing was very weird. He tells her he loves her through his puppet!
The date continues with them lying on a blanket on the library floor. Jef admits that if his family doesn't like Emily, he will dump her. Jef and Emily discuss their future and whether or not they'd live together and when they'd have kids. Emily worries that Jef won't be a good disciplinarian.
Meanwhile, back at the hotel...
Chris and John discuss Chris' bad behavior on the group date. John makes sure to rub it in that his date went really well.
Rose Ceremony
Tension is in the air between John and Chris. Chris admits that he was a jerk on the date and hopes he can clear it up during the cocktail hour. I love Emily's hair! Not crazy about the top of her dress though. I'm not a big fan of cowl necks.
Chris Harrison announces that there will be no cocktail party.
Chris is practically in tears with anxiety, while John bounces out of his seat with joy. Sean tells Arie that this is Chris' worst nightmare. Chris still thinks he's the best man for her.
Roses go to Jef and Arie (no surprise there). Right before she gives out the last rose, Chris asks to talk to Emily. He apologizes and she gives the remaining rose to him. To be honest, I was a little shocked. While I know she doesn't see a whole lot of sparks with John, at least he's not showing an angry temper! She should have kicked Chris to the curb for being such a whiney bitch. But what I really want to know is would she have made the same decision had Chris not pulled her aside?? What do you think?
Next stop: Hometowns!